Real stories we have from from around the globe.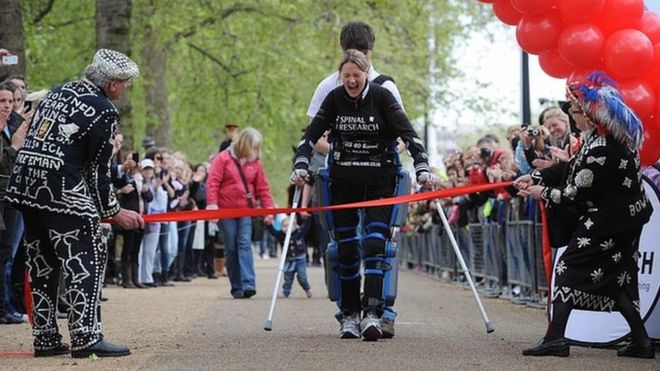 'Bionic' woman faces Great North Run challenge
A paralysed woman who completed the London Marathon in a "bionic" suit has set her sights on completing the Great North Run. Mrs Lomas, a former event rider, was paralysed from the chest down in a riding accident in 2007. She broke her neck, back and ribs and punctured a lung when her horse threw her off as she took part in the Osberton Horse Trials in Nottinghamshire.
---
Chester Lord Mayor greets record breaking biker at the end of charity brain ride
The Lord Mayor of Chester welcomed motorbike adventurer Nick Sanders and more than 100 big-hearted riders to Chester Lakes at the end of their charity brain ride. Nick and the North West bikers got their motors running as part of The Great Brain Ride 2016 to raise more than £1,500 for The Brain Charity.
---
Denna Laing stays positive while recovering from spinal cord injury
Former Boston Pride forward Denna Laing talked with NHL.com and discussed her current condition since she sustained a devastating spinal cord injury in the Outdoor Women's Classic last New Year's Eve. On December, 31 2016 Laing fractured several vertebrae during a collision which left her paralyzed on the ice.
---
Quadriplegic Drew Graham thanks friends for running the Great North Run for him
Paralysed Newcastle athlete Drew Graham is gearing up to the Great North Run – as his pals are running it for him. Since becoming a quadriplegic following a freak accident in America, determined Drew is on a mission to help others like himself. And he is raising £50,000 to fund his Pop-Up Gym to help fellow sufferers across the region. Drew, 31, said: "I'm so grateful to them for running for me. I will be supporting them while they are running as I will be going on my specialist exercise bike for two hours at the same time.
---
Shocking X-ray shows how surgeons rebuilt a motorcyclist's face using 13 metal plates and 52 screws after a horror smash
This shocking X-ray shows exactly how surgeons rebuilt the face of a father-of-two who suffered devastating injuries in a motorcycle accident. Andy Robinson's skull was left looking like a dot-to-dot drawing after medics used 13 metal plates and 52 screws to restore his face. The 48-year-old, from Lancashire, suffered horrific injuries when he collided with a friend while off-road biking in May last year. Paramedics fought to save his life as he stopped breathing three times and required an emergency blood transfusion at the scene.
---
Young man who suffered burns as a baby is given face transplant
Doctors have performed life-changing surgery on a young man with severe burn scars by giving him a full facial skin transplant.
---